Annie Louisa Swynnerton. Portrait of Suffragist Dame Millicent Garrett Fawcett - NOW IN WESTMINSTER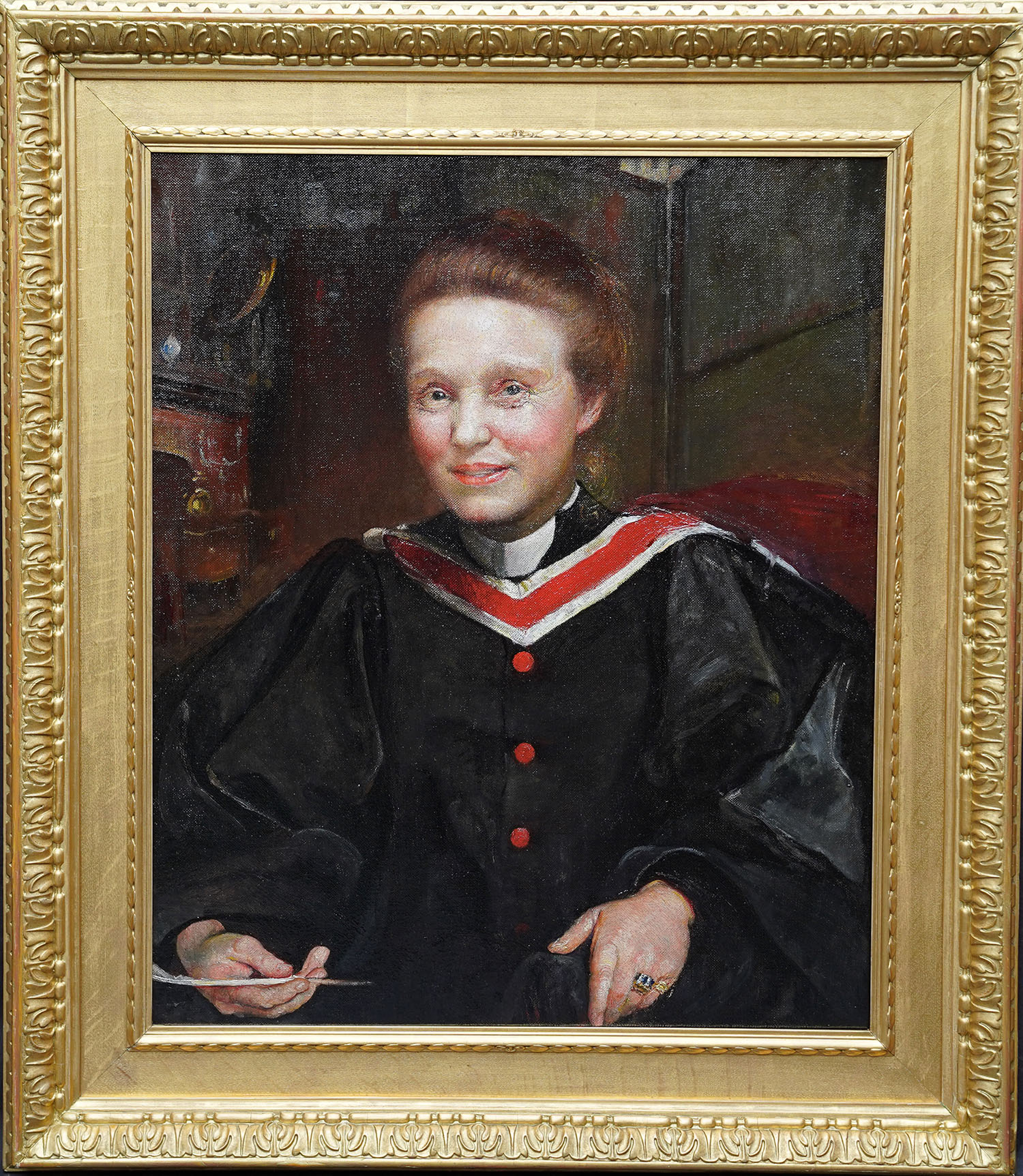 Annie Louisa Swynnerton - Portrait of Suffragist Dame Millicent Garrett Fawcett.
This painting has now found its forever home in the Parliament Art Collection at the Palace of Westminster, London.
This superb British late 19th century portrait oil painting is by noted and well exhibited Victorian born female artist Annie Louisa Swynnerton. The portrait is of Dame Millicent Garrett Fawcett (1847-1929). A statue commemorating the life of the suffragist, Millicent Fawcett, was unveiled opposite Parliament in London, March 2021. She campaigned for women's right to vote during the early 20th Century and is seen as one of the most influential feminists of the past 100 years. The bronze casting, by the artist Gillian Wearing, is the first statue of a woman erected in Parliament Square. Swynnerton's portrait of Fawcett demonstrates her connection to key figures in the Women's Movement. In this painting Fawcett wears the robes of the University of St Andrews, the institution that awarded her an Honorary Doctorate in Law (LLD) for services to education in 1899. It is likely this painting was to commemorate this occasion. There is a another similar version of this painting in the book on Annie Swynnerton which is owned by the Tate Gallery. Swynnerton's faithfulness to her middle aged sitter's appearance is demonstrated here, as she clearly shows the well earned lines on Fawcett's face. It is a superb portrait by a Victorian female artist of one of the most influential feminists in Great Britain's history.
Previously available at Richard Taylor Fine Art
See our website for more information. www.richardtaylorfineart.com
Email us to be put on our client list for regular updates and new stock info@richardtaylorfineart.com
#swynnerton
#annielouisaswynnerton
#femaleartist
#womanartist
#womensrights
#sufragette
#oilpainting
#art
#arte
#kunst
#artcollector
#artbuyer
#artlover
#artdealers
#artfinder
#painting
#artinvestment
#artappreciation
#lapada
#arthistory
#parliament
#parliamentartcollection
#womenshistorymonth
#worksofart
#inspirationalwomen
#millicentfawcett
#politicalart
#parliamentsquare
#artnews